Is it just us, or does a wedding reception feel incomplete without a photo booth? There's something irresistible about wedding photo booths—as if they're calling your name and saying, "You look stunning, come take a picture."
Wedding photo booths add a fun and exciting element to your reception. They serve as both entertainment and a means for the couple's guests to create a fun and memorable keepsake.
If you're looking to hire a wedding photo booth for your big day, but don't know where to start—we've compiled a list of the 20 types of wedding photo booths for an unforgettable day.
Type #1: Open-Air Photo Booth
If you need to entertain a large number of people, an open-air photo booth is the best option because it can accommodate bigger groups. It takes up less space and is often less expensive and easier to set up.
Open-air photo booths come in various styles—some are bare-looking, with the camera, laptop, and printer visible, while others use sleek and sophisticated machines.
Our flagship photo booth, Aura, was created by an award-winning designer—and will fit into any theme or venue.
Type #2: Classic Photo Booth
Credits: Onelove Photography
The classic wedding photo booth is the most common type of booth. It's easy to use, and guests will get a printout—usually in the 4R size.
Many of our wedding guests prefer the classic photo booth because it's the safe choice—which older guests will prefer.
Type #3: Roving Photographer
Credits: Benny Sibbit
With roving photography, you get a photographer with a professional camera, rather than an automated machine. You can either have the photographer walking around your venue to photograph your guests, or have the photographer at a fixed location—with backdrop and wedding props.
With Pronto, our photographer will take not just photos, but GIFs of your guests. And you get your photos right after our photographer takes them—no waiting time required.
Type #4: Polaroid Photo Booth
Credits: Cassie Roch
Who doesn't enjoy taking polaroids? Each polaroid is unique, making it a valuable memento. Polaroids have a magical touch when capturing your special day, and they would make a lovely gift for your guests.
Type #5: GIF Booth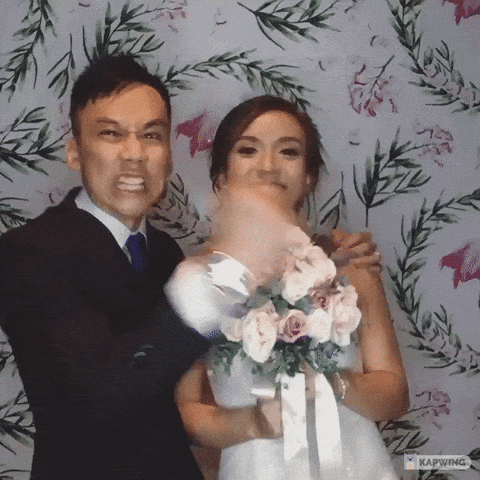 GIF booths have grown in popularity in recent years, and they are now almost as common as classic photo booths. GIFs can be made by taking a series of photos and then combined—or by creating a boomerang or a short looping video.
If you like Instagram's boomerang feature, you'll enjoy this wedding photo booth. It's an interactive experience in which you must move and dance in front of the camera, which will bring you plenty of laughter and amusing moments.
Type #6: GIF Booth with Holographic Prints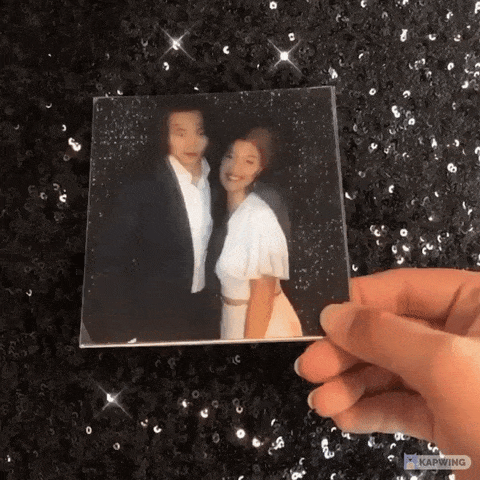 Bring your GIF booth experience to the next level, with holographic prints.
This was first introduced by our team in 2016, and has since been recognised as one of the most innovative wedding photo booth experiences.
We create these 3D-like holographic (or lenticular) prints right on-the-spot, with our unique software and process. What's cool is that you can see us making them, and we're faster than you think—we can make up to 150 prints per hour!
Type #7: Caravan Photo Booth
Credits: The Photo Bus
The caravan photo booth is typically set up with a seat on one side, and a camera and touchscreen menu to activate it on the other.
This wedding photo booth looks wonderfully chic—but it can take up a lot of space and cost a pretty penny.
Type #8: Enclosed Photo Booth
Credits: Onelove Photography
The enclosed wedding photo booth will transport you back in time—to the days when you and your best friends crammed into a small booth, jostling for a good spot and getting a strip of photos.
Since it offers privacy, it allows guests to freely express themselves. This is ideal if you have a diverse group of guests attending your wedding, as some may be hesitant in the presence of unfamiliar faces.
Type #9: Magic Mirror Photo Booth
This wedding photo booth comes as a full-length mirror—giving your guests the opportunity to show off their outfits. Companies offer a variety of designs—some have retro frames, while others are modern and high-tech.
Simply touch the mirror to take a selfie, then enter your phone number or email address to receive it digitally. Most magic mirror photo booths also provide 4R prints.
Type #10: Slow-Motion Video Booth
Slow-motion video is no longer just for movie productions—it's now accessible to average consumers like you and me.
Share a laugh as you capture slow-motion videos that let you notice details you would never have caught—such as cool movements or funny expressions.
Type #11: 180 Degree Photo Booth
Credits: Ovation Photo Booth
180-degree wedding photo booths, also known as bullet time or matrix photo booths, will give your wedding guests a cinematic experience.
This is achieved by setting up an array of cameras in a semicircle, to take photos from slightly different angles. The photos are then stitched together to create these badass GIFs.
Type #12: 360 Degree Photo Booth
This wedding photo booth has grown in popularity, especially at high-end events—think red carpet receptions. It's similar to the 180-degree photo booth, but with twice as many cameras.
Type #13: Revolving Photo Booth
If you want to take 360-degree photos but don't want to break the bank, the revolving photo booth is the way to go! It's a clever and inexpensive way to create a similar effect.
This wedding photo booth only requires one camera, that will revolve around a platform. You will stand on the platform—which can hold up to four people—and follow the camera as it moves around you. Bring your A-game by doing cool dance moves.
Type #14: Green Screen Photo Booth
Transport your guests to fantastic and far-off locations with a green screen photo booth. The green screen will be replaced with digital images, a technique used in movies to create computer-generated imagery (CGI). 
With this wedding photo booth, you can create your own unique backgrounds—with your names, for example.
Type #15: Augmented Reality Photo Booth
Augmented Reality (AR) photo booths are a hot new experience, thanks to the popularity of AR filters on apps like Instagram and TikTok.
Unlike classic photo booths that use physical props, AR photo booths use fun and interactive digital props that track your faces for hilarious results.
Type #16: Virtual Photo Booth
The virtual photo booth is a great alternative to physical photo booths, because it allows guests from all over the world to join the fun.
You'll be able to customise the virtual photo booth with your own frames and stickers. Your guests will simply open the booth on any browser, by clicking a link or scanning a QR code.
This experience allows your guests to send selfies and messages from anywhere in the world—which you can instantly display on a screen.
Type #17: Retro Photo Booth
With its chic appearance and wooden exterior, this wedding photo booth evokes a sense of nostalgia. Its main selling point is its vintage appearance, so it's best to request photos of the machine before renting it.
Type #18: Robot Photo Booth
That's right, you can now hire a cute robot to follow you around and take your photos. Isn't it like something out of a science fiction film?
The robot photo booth can talk to your guests in the same way that a chatbot or voice assistant would, and you can tailor its speech to match the theme of your wedding.
However, with its hefty rental fee, you're paying more for the novelty factor and less for the actual photo booth experience or photo quality. Nonetheless, because of its novelty, it will be the talk of your wedding.
Type #19: Hashtag Printing Photo Booth
This isn't technically a photo booth, but it's commonly referred to as one.
Guests will have to take their own photos with their phones, and upload them to Instagram with a hashtag to get their photos printed.
Type #20: Flipbook Photo Booth
The flipbook photo booth takes short videos or boomerangs of your guests, turning them into—you guessed it—flipbooks. This wedding photo booth makes wonderful keepsakes for your guests.