When it comes to planning your big day, settling venue bookings, seating arrangements and catering is important—but let's not forget your pre-wedding photoshoot!
Not only can the photos be used for guest invites and your wedding albums, they also help to preserve the priceless moments for you to look back on.
If you're in the process of hiring a wedding photographer, check out our comprehensive guide on how to find the right wedding photographer.
If you've already found your wedding photographer—and you're in the process of scouting the perfect wedding photoshoot location—here are 60 enchanting locations in Singapore.
We've conveniently organised them into these 6 categories—nature, architecture, waterfront, attractions, offbeat.
Nature
1. Jurong Lake Gardens Lalang Field
This wedding photoshoot location is a must for romantics out there. A popular must-have is a running shot of you and your partner frolicking in a field, just like out of the movies.
2. Hort Park
Explore having your photos taken by the sheltered entrance overlooking the water, with a myriad of greenery all around and even a beautiful gazebo surrounded by flowers. If you're looking for many different backdrops, you should give this wedding photoshoot location a chance!
3. Botanic Gardens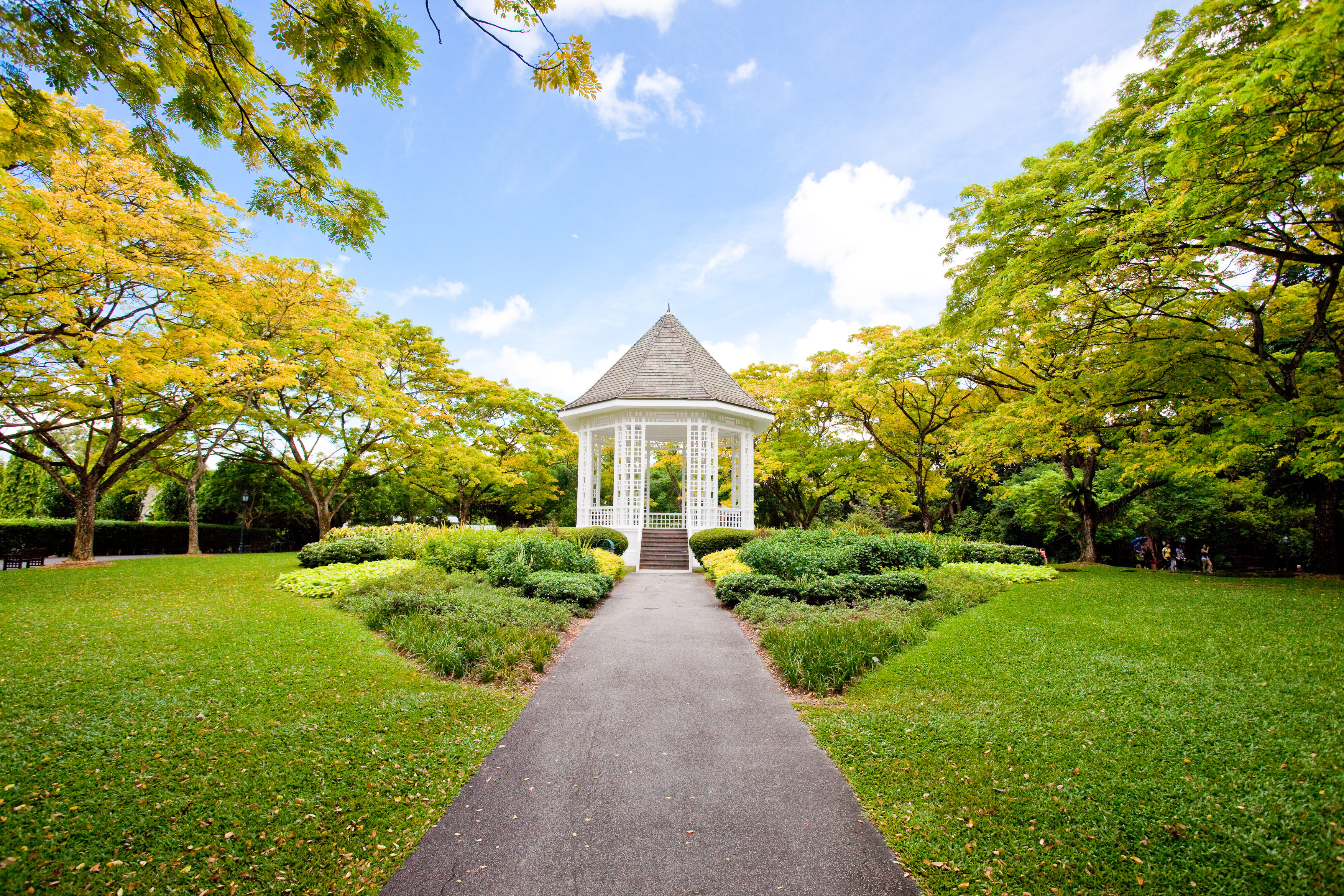 A UNESCO heritage site and a Singapore favorite! Take a stroll around Swan Lake to see a view of clear waters, and the much publicized gazebo. Don't forget to drop by Orchid Garden, where they host the world's largest collection of orchids.
4. Gardens by the Bay – SG50 Lattice
Visit the SG50 lattice structure by Bayfront Plaza. The giant art piece was designed by students at Singapore University of Technology and Design with the aim of creating a mesmerising experience – perfect for a couple against the world. A short tour around also exposes you to the opportunity to take some shots by a bridge or with the backdrop of Marina Bay Sands.
5. Cloud Forest and Flower Dome
The Cloud Forest and Flower Dome offer spectacular displays of plants and flowers from all over the world. The air-conditioned environment is not only good for warmer days, but also adds a majestic grandeur to your photos.
6. Fort Canning Park
This famous spiral staircase is so popular, there are queues just to take photos here. For a less common wedding photoshoot location, explore Fort Gate and Raffles Terrace, for a touch of history.
7. Sungei Buloh Wetland Reserve
One of the most extensive forests here in Singapore, check out the Kingfisher Pod at Sungei Buloh Wetland Reserve. If you prefer to go deeper into the woods, go through their stilted boardwalks just a metre over the water! The walking trails here are also stroller friendly and are sure to fit your crew of photographers.
8. Kent Ridge Park
For a shot higher in the skies, try Kent Ridge Park. Follow Canopy Walk to find a bridge among the trees, stay close to the ground at Kent Ridge Park Pond, or even stumble across a pebbled walkway in the woods.
9. Japanese Cemetery Park
As bleak as this sounds, this cemetery has long been a hotspot for many engaged couples! Think of it as the beginning of one chapter as another closes. Take this opportunity to walk down under the gorgeous floral arch.
10. Bukit Batok Hillside Nature Park
A great place for couples looking to have their an adventurous side captured. Interestingly, the journey to this location is an adventurous one too! These doorframe walkways and nearby abandoned shelter will take 30-minutes of hiking before you arrive on set. Sounds tough, but for an uncommon wedding photoshoot location like this, it explains its rare find!
11. Little Guilin
For a more accessible spot in the Bukit Batok area, try a 5-minute walk from Bukit Gombak MRT Station. Named after the rock formations in Guilin (in China) that this park aims to resemble, this stunning view will bring a piece of tourism to your local neighbourhood.
12. Rail Corridor
Newly refurbished in 2021, the black tones in these tracks offer a touch of class for a mix between urban and rustic. If you are hoping to explore around the area, drop by Dairy Farm Nature Park or Singapore Quarry Bridge for literal stepping stones into the forest.
13. Sunset Way Railway Tracks
Alternatively, opt for a shade of red by Sunset Way at Clementi. As an alternative to Rail Corridor, these railway tracks oversee the housing around the area and would be a better fit for couples who live nearby and want that essence of home in their photos.
14. Faber Peak
Faber Peak is the clear winner for couples who prefer sticking to the concrete jungle while posing among the trees. Feel free to play around with the timing of your photoshoot – whether taken at night with fairy lights, or in the day with the view above the trees. Consider ending the visit with treat on the cable-car ride as a reward for a good day's work.
15. Mount Emily Park
The route around Tree Hill City Walk will guide you past many different elements for you to pose with. Your trail begins at Mount Emily Park with a shaded stroll, continuing on to this stunning view of the business district by the top of Emily Park and finally, some older buildings along Wilkie Road.
16. Chinese Gardens
The key selling point of Chinese Gardens would have to be their moon gates. Other hot spots are inside the different buildings. Keep an eye out for grand spiral staircases and views high above the garden.
17. Labrador Nature Reserve
Labrador Nature Reserve (or Labrador Park) is a landscape of greenery among high rise buildings in Singapore. One of the more accessible paths can be found when walking down the Nature and Coastal Boardwalk which shares a view of the sea, or Dragon Tooth Gate where the replica sheds some history on the Batu Berlayar or "Sail Rock" in Malay, which voyagers used for navigation.
18. Istana Park
Close to Dhoby Ghaut, this small park across the Istana is well-known for the tranquil mood it breeds within the bounds of Orchard road. Though small, this park has its own centrepiece, pond and set of lush shady trees. If you are hoping to hop into the park within the Istana grounds itself, they will be open in celebration of National Day and Deepavali—with free entry for Singaporeans and permanent residents, or $2 per entry for other visitors.
19. Chestnut Nature Park
Better known for being the simpler trail to the Southern route, the Northern route will lead you to this mesmerising clearing after you have passed some semi-cobbled steps and a dirt track. Check out this guide on how to get to Chestnut Nature Park—you might even snap some scenic photos while getting there!
20. One-North Park
Pictured above is One-North Park at Fusionopolis South. While this boardwalk is better known for its bird watching view, go ahead and spotlight your partner and yourself among the lush trees. While you're in the area, maybe head over to One-North Park Biopolis to take some photos by the park bench or under their large Ficus tree.
21. Portsdown Road Estate
This wedding photoshoot location is great if you're looking to have a mix of tones to choose from. If the open field is not your thing, try out the abandoned water tank, colour-themed bar or the array of colonial black-and-white houses that Portsdown Road, just next to Wessex estate, is also famously known for.
22. The Gallop Stable
This is the closest you can get to the farm life! The Gallop Stable is not only set in beautiful grounds, but offers you a chance to have these lovely horses in your photos. If you wish to take your wedding photoshoot to the next level, you can even request to rides these horses with your gown on. Dream it and believe it!
Architecture
23. The Mill
A sight that can't be missed! This gothic looking tower by Redhill is as close as you can get to "Batman's Tower", as some might say. Arrange your pre-wedding photoshoot here if you and your partner are trying for a serious, yet classy look. If you manage to get access to their carpark, they even have their very own graffiti wall mural!
24. Rooftop Garden at SkyVille @ Dawson
This rooftop terrace is located at a residential area, on the 43rd and 47th stories. You'll be surprised to see how much of a view this place has to offer! If you're looking around, their spiral staircase and rooftop garden by their multi-storey carpark are where you can get some sun in for a nice, warm glow.
25. Fullerton Hotel
As one of the trademarks of Singapore, you can opt for a shot on Cavenagh Bridge with a backdrop of Fullerton. If you take these shots at night, wait out by Asian Civilizations Museum and our Singapore River, for the coloured lights.
26. Victoria Theatre and Concert Hall
On the opposite end of the bridge, there is also a chance for you to pose with Victoria Theatre and Concert Hall. At certain times of the year, Art Skins on Monuments will work with these buildings to integrate modern day art with historical landmarks. While at it, scope out the former City Hall, and take some photos in the open field right across, where photos hit best with pink sunsets.
27. Henderson Waves
Another accessible destination is Henderson Waves, with a bus stop just beneath this bridge. This iconic bridge offers not just style, but also a view of an amazing sunset! If it's early in the day, take the chance to venture along Southern Ridges for a classic aerial shot.
28. Jewel Changi Airport
Needless to say, our newest airport is not just useful for catching a flight. The beauty of Jewel is the scale of all the architecture in comparison to you and your partner. Whether you're taking your photos by the entrance, rain vortex or along the link bridge, the high ceilings and vast space will provide a wonderful backdrop.
29. Raffles Hotel Singapore
Apart from the grand entrance at this colonial-style hotel, their quaint courtyard and red-white corridors have a touch of elegance. If you are interested in playing around with different angles, they also have a fully white u-shaped staircase lined with columns by their drop-off point.
30. Katong Square
Located at the site of the former Joo Chiat Police Station, Katong Square has a uniquely designed Starbucks. Take advantage of the brown on white framed windows and doors that could work for a lovely hole-in-the-wall shot.
31. Raffles Marina Lighthouse
This wedding photoshoot location hits two birds with one stone. Apart from having an isolated shot of you and your partner, you will also have the wind on your side for that bit of glamour. With the waters gently reflecting the sky, this location is great for when you're catching the sunset!
32. Pasir Panjang Power Station
Pasir Panjang Power Station has to be one of the more unique wedding photoshoot locations on the list! If you have a soft-spot for the industrial look and feel, or want to stand out from the crowd, this might be the place for you!
33. Paya Lebar Quarter
If creativity is a knack of yours, let it run wild at Paya Lebar Quarter's open spaces. Though it can be a bustling location, your photos are best taken during working hours to avoid the crowd or in the night when the pathways are beautifully lit up. If an open floor is too general, you may also scope out the park along Sims Avenue which spots a tasteful view of train tracks over 10 metres above!
34. Peranakan Museum
Here's another historical site! The architecture of this building – both inside and out – is sure to add some warmth and class to your wedding photos. Here's a look of what you'll be working with, alongside the inner stairwells and Peranakan corridors.
35. The Alkaff Mansion
The Alkaff Mansion is a restaurant along Telok Blangah Green. The entrance of this exclusive restaurant welcomes you with a white, wide flight of steps leading to the entrance of the mansion. As you may notice, they are popular with brides and grooms with their colonial architecture.
36. Under Marina Coastal Expressway
This pre-wedding photoshoot location is a big hit for couples who want to stand out against the setting. What is often most noticeable is the symmetry in this location, making the landscape appear never-ending. Just like how a good white tee never fails, be sure to bring your best and brightest suits and dresses!
37. GiIlman Barracks
The great thing about Gillman Barracks would have to be the space it offers! It has an almost all-white aesthetic, from the floor to the walls, the steps and handrails. If you want a little bit of contrast, the open carpark and vined wall is another option you can consider.
Waterfront
38. Saint John Island
Standing as an island of its own, there is almost no limit to where you can go for your wedding photoshoot. If upon leaving Saint John's island, you don't find quite the shot, you may also strut along the stretch between Saint John's Island and Lazarus Island with the wind in your hair and the world behind you.
39. Coney Island
For our second island location, Coney Island's selling point would be its vined bird hide in the middle of the woods. As opposed to the other islands, Coney is the most accessible with a short bus ride from Punggol MRT.
40. East Coast Park
Instead of a wedding photoshoot within the trees or in the dense forest, you can opt for a running shot by the waters. The only downside of having a shot this close to seashore would be bringing home little bits of sand, but remember, every picture perfect moment comes at a price!
41. Punggol Waterway Park
Here's another wedding photoshoot location with a myriad of possibilities. Above is where you can catch the view of the sunset and pose in the dome with your special someone. The 24-hour park also has a meandering boardwalk, art murals and walking paths.
42. Seletar Aerospace Park
Designed to revitalise the industrial aviation base, this 320-hectare of land is now the hosting grounds to many couples in search of pre-wedding photoshoot locations. Other than this snapshot of Seletar boardwalk, the park also has a play area, colonial houses, and a pathway to Seletar Reservoir Park with large shady trees by the horizon.
43. MacRitchie Reservoir
For a warmer tone, the fallen leaves at MacRitchie can help to mimic the fall weather.
44. Lower Pierce Reservoir
Reservoirs are fantastic wedding photoshoot locations during sunrise or sunset, when the water glistens with the warm light. Given the vastness of this pre-wedding photoshoot location, your photos would definitely evoke that spirit of freedom in your and your partner.
45. Sister's Island
Compared to Saint John's island or Lazarus Island, Sister's Island is a less visited wedding photoshoot location—meaning less crowds! Other than taking a photo along the coastline, you can expect to stumble across pathways among many leaning trees (like the sort you find in Bali), and sheltered benches as your makeshift gazebo. Home to most of the marine life near Singapore, the waters here are a clear hue of blue!
46. Changi Boardwalk
This 2.2km boardwalk is open 24 hours which allows you to capture your special moments at all times of the day.
47. Marina at Keppel Bay
Apart from being the docking home for the many yachts in Singapore, the Marina at Keppel Bay preserves its grand elements at other spots, including the waterfront promenade and breakwater.
48. Tanjong Rhu Promenade
This is the closest you can get to the Vasca da Gama bridge or Golden Gate Bridge in Singapore. All the sights along the bridge are great wedding photoshoot locations, with a contrast between the calm waters and the view of the bustling cityscape. This is a great option if you're a diehard fan of the Singapore skyline.
49. Sentosa Boardwalk
A familiar path for many would be the Sentosa Boardwalk. Compared to the other boardwalks, this one is lined by tall trees and curved wooden sculptures for an out-of-Singapore feel.
50. Marina Barrage Lookout Point
An incredible wedding photoshoot location to be alone with your partner. Some couples have played around with this location by lying on the lookout point for an aerial shot, but either way, this place looks great when it comes to feeling small in a big world. If you follow along the path towards Marina East Park, you might also find yourself posing with the backdrop of Marina Bay Sands.
Attractions
51. Marina Barrage
Naturally, the neighbour of the Marina Lookout Point would be the Marina Barrage itself. Experiment by taking photos on the ground floor, the slope up to the next floor, or along the handrails overlooking the waters.
52. Universal Studios Singapore
If you want it all at one place, you've got it with Universal Studios Singapore. Have your pre-wedding photos taken in Madagascar for a wild-life experience, or Hollywood for some retro vibes. This is a home-run for fun, spirited couples. Drop them a message that you, your partner and photographer will be heading over!
53. National Museum
The concrete columns and walls are a big hit for many couples, so don't be shy when posing by the front entrance. For photoshoots within the museum, reach out to their team for more details
54. S.E.A. Aquarium
As a sister to Universal Studios Singapore, S.E.A Aquarium also offers a photography package where you, your partner and photographer have a personal guide bringing you around the attraction. This pre-wedding photoshoot location is most famously known for presenting couples before a towering tank home to fishes, sharks and stingrays.
55. Marina Bay Sands
Be right in the thick of the city with this popular wedding photoshoot location. Get a panoramic view of the Helix Bridge, Marina Bay Sands Skypark, Merlion and Water Lily Pond.
Offbeat
56. Schools
This one goes out to the lovebirds who met in school. Here's an opportunity to relive the moments when you first met! Alternatively, try exploring NTU's School of the Arts, Design and Media or Lasalle College of the Arts.
57. Void Decks
As part of the Arts in Your Neighbourhood campaign, some HDB void decks have been, well, decked out. The one above in particular, was titled "The Story of a Place", designed for the mood of romance. With other campaigns integrating arts to our homes, be sure to keep your eyes peeled for future installations! Otherwise, having traditional pieces in your wedding photos would still be a warm way of keeping them in your memories.
58. Home Sweet Home
Why not work with what you have? Staying home can make you feel comfortable and bring out the biggest smiles. While some couples like to keep it simple, there's no harm in dolling up the living space to bring the best out of it. A strongly recommended wedding photoshoot location for those who want to carry a little piece of their upbringing with them into the next chapter of their life!
59. Carparks
Specifically, we are exploring the aesthetic value of carpark rooftops! One example would be the above carpark rooftop garden. This offers you a spread of trees but also the buildings in the neighbourhood—if you're in Bishan, that would be the iconic brick-red! Another example is the carpark by Republic Polytechnic; decorated with vines and a skylight.
60. Streets
In our little island home, we may not have an abundance of natural attractions, but we're surrounded by streets and buildings beautified by our local artists. Some murals are decorating the streets of Chinatown, Armenian Street and many other colorful stretches.
Whether you take today or the next few weeks to decide where to have your pre-wedding photos taken, remember that there's no limit to how many places you can go, or how far you should travel. Let's hope this list of 60 places would give you a good head start as you begin to plan your pre-wedding photoshoot. Have fun looking for your dream location!